Rodman & Renshaw / BRI: Recent Financing Bolsters Acquisition Strategy; Increasing PT
Chris Mullen
Brazil Resources, Inc. BRI-CA: Price: C$1.88; Market Cap (M): C$218 Rating: Buy; Price Target: C$4.25 Heiko F. Ihle, CFA Jake Sekelsky Recent Financing Bolsters Acquisition Strategy; Increasing PT Click here for complete report and disclosures Strong balance sheet to fuel growth. On November 15, 2016, Brazil Resources announced the closing of the third and final [...]
GoldSeek Interviews Doug Casey – Bubble in Gold, Crisis Investing Opportunities & more!
Peter Spina
Download Mp3 format   Peter SpinaPeter Spina is President, CEO of GoldSeek.com & SilverSeek.com. His experience with the precious metals markets started back in the mid-1990s, which led to the creation of GoldSeek.com in 1995. Today GoldSeek.com ranks within the top, most-visited gold investor websites in the world with a 300,000+ global monthly reader outreach. [...]
GoldSeek Radio Nugget Interview: Byron King
GoldSeek Comment Wire
Byron King outlines one of his favorite PMs exploration firms, Brazil Resources, calling it, "The most underpriced company in the Gold Speculator's portfolio."
Our guest visits the properties, meets the geologists and top executives like CEO Amir Adnani who runs Brazil Resources as well as Uranium Energy Corp.
Brazil Resources earned a strategic advantage by transforming properties with potential into highly sought after projects by leading mining companies.
Doug Casey Says Historic Gold Bull Market to Start any Day Now
GoldSeek Comment Wire
"We had to get the man, the expert, the mining legend Doug Casey back to update all of us on the current gold market, after this correction period as we go into historically the best season for Gold & Silver. Doug calls this as a potential best ever gold rally coming, based on what we've seen in this market and world turmoil; he also reveals one of his top profit investments in the sector, saying he has seen 1,000% returns before and has no doubt we're in for that again with some mining companies."
Brazil Resources completes acquisition of Titiribi Gold-Copper Project from NovaCopper
GoldSeek Comment Wire
Highlights:
- The project hosts several styles of mineralization including gold-copper porphyry and associated epithermal gold mineralization in nine zones identified to date;
- Approximately 144,779 metres of diamond drilling over 270 holes has been completed on the project;
- The Company has commissioned a National Instrument 43-101 technical report and resource estimate for the project;
- Total consideration under the transaction consisted of 5 million common shares and 1 million share purchase warrants;
- The common shares issued at closing represent less than 5% dilution to existing BRI shareholders;
- Nearby gold projects in development or in production include AngloGold's Ashanti's Quebradona, B2Gold's Gramalote, Continental Gold's Buritica, Red Eagle's San Ramon, and Gran Colombia's Marmato projects; and
- Completion of the transaction represents another significant advance in Brazil Resources' targeted growth strategy.
Brazil Resources Inc. is a public mineral exploration company with a focus on the acquisition, exploration and development of projects in Brazil, United States, Canada and other regions of the Americas. Brazil Resources is advancing its Whistler Gold-Copper Project located in Alaska, United States, its Cachoeira and São Jorge Gold Projects located in the State of Pará, northeastern Brazil and its Rea Uranium Project in the western Athabasca Basin in northeast Alberta, Canada.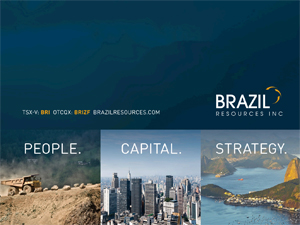 Download the latest Corporate Presentation